TRI DUNG BUSINESS SCHOOL
51 Cong Lo St., Ward 15, Tan Binh Dist. HCMC, Vietnam
Tel: 84-8-3815 3911 Fax: 84-8-3815 3912
E-Mail:



SCHOOL INFORMATION

FOUNDER
Nguyen Tri Dung (Mr.)
PRINCIPAL
Truong thi Bach Hong (Ms.)
HISTORY
1989 Oct.
Founded by Mr. Nguyen Tri Dung as the first private business school in Vietnam with 200 students.
1992
Started the scholarship program and the "Study Now, Pay Later" program.
1997
Received the official commendation for its contribution to education development in Ho Chi Minh City.
1999
On its 10th Anniversary, the total number of attendance reaches nearly 30,000 students.
Japan World Exposition Commemorative Fund ,which is the organization to support domestic and overseas educational organizations, has decided to grant the School with a special fund for Audio Visual Language Lab System , which is planned to be installed around October 1999.
COMPUTER ENVIRONMENT
45 computers ( corresponding to NT & Window 98)
The Internet / E-mail Service Center for students was opened in April 1999.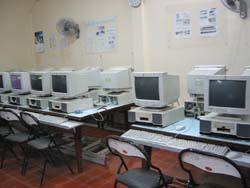 Teaching Staff of TRI DUNG Business School 1997