CEO World Forum 2012 opens in Hanoi
21:09 | 12/01/2012

(CPV) - For the first time, CEO World Forum 2012 titled "New business models of sustainability" opens on January 12th in Hanoi.
It is an international forum for CEOs, General Directors, and high rank leaders of enterprises not only in Vietnam but in South East Asia and all over the world as well.
CEO World Forum 2012 is co-organized by International Data Group (IDG) and the CEO&CIO Club, endorsed and supported by the Ministry of Finance, Ministry of Information & Communications, Ministry of Industry & Trade, National Financial Supervisory Commission and Vietnam Chamber of Commerce and Industry (VCCI).
Given the participation of more than 200 leaders who are representatives of governmental offices, ministries, Vietnamese and foreign businesses and investment funds CEO World Forum – former Business Leaders Bridge Forum is expected to be a perfect platform for knowledge exchange and relation networks.
According to Mr Le Thanh Tam, CEO of IDG ASEAN, Vietnam's economy also experienced a struggling year when the government had to adopt strict measures to maintain interest rate, control gold and foreign exchange markets and stabilize exchange rate.
"Vietnam's Inflation rate in 2011 was over 18%, considerably surpassing the rate of 7% projected by the National Assembly in 2010. According to the Vietnam's Ministry of Planning and Investment, until September 2011, nearly 50, 000 firms were reported to suspend operation; 11,000 more than last year".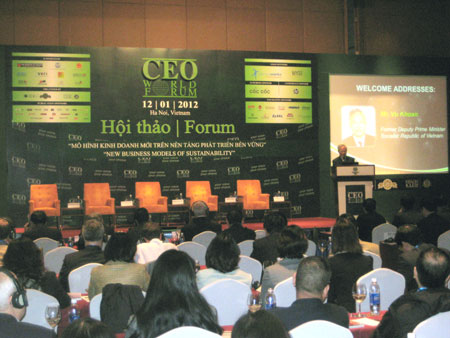 Photo: ATP
This Forum is also a place where CEOs could find the answers to their problems. A sustainable business model is combined by four main factors: Efficient usage of natural resources which is a basis to construct and determine the business model as well as inputs of the enterprise; high-quality human resources which orient executives, lead business development; effective funds attraction and utilization which is a driving force for enterprises and Government policy and legal framework helping develop business activities conveniently and stably. These are factors that most major developed countries are adopting today.
The event consists of three sections: plenary discussion, keynote session and panel discussion.
With a new and practical theme, an open and highly interactive organizing format, CEO World Forum 2012 would offer a promising platform for experience sharing and cooperation establishment for business leaders, managers in finance, marketing and human resources as well as make a perfect bridge connecting representatives from governmental offices and ministries; scholars and experts from established financial, consulting organizations and investment funds inside and outside Vietnam./.
Keywords of this news:
ATP