Updated : 6:59 PM, 12/01/2012
Building new business models toward sustainability
(VOV) - This is the major goal set by more than 200 chief executive officers (CEOs) of local and foreign businesses and representatives from governmental agencies, ministries, and investment funds at an ongoing international forum in Hanoi.
To achieve the goal, they said, it is essential to promote the efficient use of natural resources, increase high-quality human resources, effectively attract and utilize investment, as well as to create incentive policies and the legal framework to facilitate business operations.

Former Deputy PM Vu Khoan
Participants at the CEO World Forum 2012, co-organized on January 12-13 by International Data Group (IDG) and the CEO&CIO Club, drew a picture of Vietnam's economy and talked about development trends while highlighting investment opportunities in poor economic conditions.
Addressing the forum, former Deputy Prime Minister Vu Khoan noted that many Vietnamese businesses are facing capital shortages and that global economic downturn has had a negative impact on the national economy, resulting in moderate trade turnover in 2011.
He underlined that to overcome current difficulties and challenges, business leaders should seek energy-saving solutions and apply new technologies.
Current financial status
According to Le Xuan Nghia, Vice Chairman of the National Financial Supervisory Commission, in 2011 Vietnam's economy encountered many challenges, with the inflation rate reaching 18.5 percent, the stock market standing below 400 points, gold prices and foreign currency exchange rate experiencing strong fluctuations, and the real estate market becoming frozen due to strict monetary policies.
Moreover, he said, the government has recently decided to adopt a policy to lower GDP estimated growth in 2012 of 6-6.5 percent to stabilize the macro-economy.
Ralf Matthaes, a senior market research expert from the US, emphasized the need to increase the purchasing power of consumers in a high-inflation context and understand spending priorities.
Vietnamese consumers have experienced a combined inflationary increase of 50 percent over the past three years, he added.
Key to success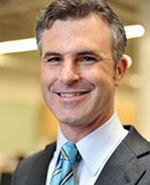 Chris Harvey
Chris Harvey, CEO of VietnamWorks, shared his experience in talent recruitment, saying that current difficulties in business finance restrict the capital for senior human resources recruitment.
In order to find optimal solutions to attract and seek talents, he suggested entrepreneurs need a deep understanding of the recent situation in Vietnam and strategies to develop senior employment for effective operation.
Successfully using high-quality employees will help businesses overcome challenges and find new opportunities, he added.
During a panel discussion, delegates focused on four pillars of sustainable economy, saying that sustainable development is an inevitable developing trend of the era.
To this end, they analyzed, four factors should be taken into account: developing national resources, utilizing senior human resources, effectively using domestic and foreign investment capital, and ensuring transparent macro management policies and government legal frameworks.
They considered Vietnam's natural and human resources as the foundation for creating competitive advantages and increasing productivity.
2011 was a year full of fluctuations in the world economy and Vietnam's economy in particular. The growth rate of the world economy was estimated at 3 percent instead of 3.6 percent as expected.
In Vietnam, the government had to adopt strict measures to maintain interest rates and control gold and foreign exchange markets. Inflation in 2011 was over 18 percent, beating the 7 percent target set by the National Assembly.
According to the Ministry of Planning and Investment, by September 2011, nearly 49,000 firms were reported to suspend operation, 11,000 more than the previous year.
Tran Ngoc
Nguồn: VOV online