Second conference for OVs opens
27/09/2012 | 16:21:00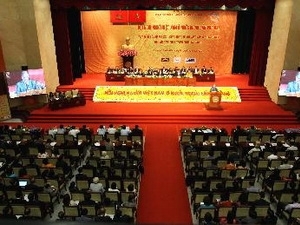 At the event (Source: VNA)
The second conference for overseas Vietnamese (OVs) opened in Ho Chi Minh City on September 27.
The conference, themed "Vision to 2020 – the Overseas Vietnamese Community's Integration and Development with the Nation", is organised by the State Committee for Overseas Vietnamese Affairs (COVA) under the Ministry of Foreign Affairs.
Speaking at the opening ceremony, Le Hong Anh, Politburo member and standing member of the Party Central Committee Secretariat, spoke highly of the presence of nearly 1,000 delegates at the event, saying that it is a vivid manifestation for the will and aspiration of more than 4 million OVs, who are uniting for the goal of building a strong community and looking towards the homeland.
Since the first conference in November 2009 , many guidelines and policies have been issued or revised to meet OVs' vital interests, he said.
However, realities have shown that OVs in some places are yet to have a secure life and stable legal positions, Anh noted, adding that the demand for preserving and upholding cultural identities and national traditions, including maintaining Vietnamese language among OVs, is becoming an urgent need.
According to the official, the development of associations for OVs and the implementation of policies relating to their vital interests such as nationality, business and investment, housing purchase and ownership are facing a lot of difficulties.
In addition, there is also a shortage of specific policies and measures to call on and create conditions for overseas intellectuals to return to work in the country, he added.
Therefore, Anh suggested the conference make a full assessment on the situation and development trend of the OV community as well as the efficiency of guidelines and policies for them, thus serving the building of immediate and long-term programmes for Vietnamese living abroad.
Foreign Minister Pham Binh Minh affirmed that the Party, State and people always respect valuable sentiments OVs have for the country and consider them an integral part of the Vietnamese nation.
The Government will continue listening to ideas contributed by OVs in order to work out new policies that meet their aspirations, he said, adding that the Party and State always encourage and create the best conditions for Vietnamese living abroad to contribute more to the country.
Following the opening ceremony, four symposiums took place, covering topics on integration and economic development, cultural identity and national traditions, overseas Vietnamese academics with industrialisation and modernization, and overseas entrepreneurs working for the future of communities and country.
During the four-day conference, the delegates will join exchanges at several economic and cultural establishments in Ho Chi Minh City and southeastern provinces.
According to COVA, t here are currently more than 4.5 million Vietnamese living in over 100 countries and territories worldwide. About 500,000 OVs return home each year, including many experts, intellectuals and businesspeople.
Overseas remittances have increased 10-15 percent per year, amounting to over 9 billion USD in 2011 and 6.4 billion USD in the first six months of this year, making Vietnam one of the top 10 remittance recipients in the world.
In Vietnam , there are more than 3,500 OV-invested projects with a total registered investment of around 8.4 billion USD.-VNA
Source: Vietnam+
---
Xem thêm hình ảnh