Second conference for overseas Vietnamese closes
29/09/2012 | 13:33:00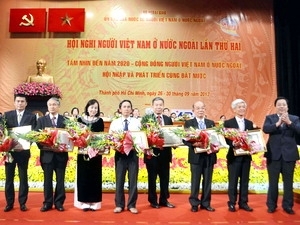 Representative from Foreign Ministry presents insignias and certificates of merit to overseas Vietnamese individuals and units (Source: VNA)
The second conference for overseas Vietnamese wrapped up in Ho Chi Minh City on September 28 after two days of sitting.
During the conference, participants focused on discussing national unity, cultural identity, national traditions and overseas Vietnamese intellectuals with industrialisation and modernisation.
The Vietnamese culture's contributions to the world as well as Vietnam's relations with other countries were also tabled at the event.
Concluding the conference, representatives from the State Committee for Overseas Vietnamese Affairs under the Ministry of Foreign Affairs presented insignias and certificates of merit to overseas Vietnamese individuals and units with outstanding achievements in activities towards the motherland.
There are currently more than 4.5 million Vietnamese living in over 100 countries and territories worldwide. About 500,000 overseas Vietnamese return home each year, including many experts, intellectuals and businesspeople.-VNA
Source: Vietnam+
---
Xem thêm hình ảnh