Developing megacity-opportunities for businesses
Updated : 1/11/2013 6:05:28 PM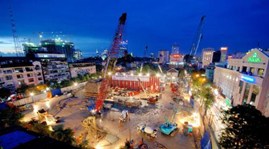 (VOV) -More than 250 businesses and experts attended the 2013 CEO World Forum in HCM City on January 11, discussing megacity development and investment opportunities.
The event is jointly organised by the International Data Group (IDG) and the CEO&CIO Club.
Le Manh Ha, Deputy Chairman of the City's Municipal People's Committee, said last year southern provinces and cities, with HCM City being the largest economic hub, created natural inter-links across various sectors, raging from transportation, healthcare and education to telecommunications, information technology, and banking.
He suggested local authorities promote cooperation to maximise the gains from these relationships and avoid overextending resources.
Nguyen Van Yen, Deputy Chairman of the Lam Dong Provincial People's Committee, pointed to the fact that many cities and provinces already depend on inter-regional connections.
He said Lam Dong, located in the Central Highlands economic zone, has signed comprehensive cooperation agreements with 11 cities and provinces, supplying 40 percent of the whole country's total fresh fruit and vegetables.
However, administrative links are not strong enough to foster business operations and local economies.
Dr. Nguyen Tri Dung, an economic expert, underlined the need to develop administration-business links and establish a regional development council to coordinate local economic links.
In addition to discussing regional link efficiency for megacity development, the forum also explored issues such as policies, infrastructure, the wholesale and retail markets, and opportunities for businesses and investors.
Source: VOV online
---