We are ready to support
Economic and Cultural Cooperation with Vietnam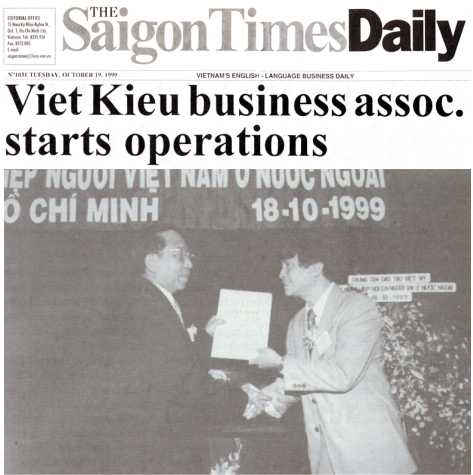 HCMC Vice Chaiman Nguyen Van Chi (L) hands over the license for the newly-established association to interim chairman Nguyen Tri Dung


The Overseas Vietnamese Business Association in HCMC, with an initial membership of 26, officially began operations yesterday.
Speaking at the inauguration ceremony, Party Advisor Vo Van Kiet said the licensing of the association manifested the close attention the Vietnamese Government paid to the operations of businesses run by Vietnamese expatriates (Viet Kieu). Through the association, the Government would help them overcome any difficulties as well as create favorable conditions to help its members do business more efficiently, he added.
HCMC now has over 200 projects run by Viet Kieu, mostly in production, trading and technology transfer. Huynh Ngoc An, chairman of the HCMC Committee for Overseas Vietnamese, said investment by Viet Kieu in Vietnam had increased strongly this year.
Vietnamese expatriates can now invest in the country in accordance with either the Law on Foreign Investment or the Law on Promotion of Domestic Investment. An revealed that the majority tended to choose the latter.
To attract the capital of Vietnamese living abroad for the country's economic development, the Government is dealing with obstacles in the policies relating to Viet Kieu, Next year, they will be allowed to own houses in Vietnam. In addition, the entry and exit visa formalities for them will be simplified and they will enjoy the same fees as Vietnamese nationals.
The association has elected Nguyen Tri Dung, an overseas Vietnamese from Japan and director of the Minh Tran Company, as interim chairman.
"The association's objective is to encourage and enhance the potential of Vietnamese living abroad and contribute to the city's and the country's socio-economic development." Dung said.
"We hope (the association) will be a source of information and provide assistance for overseas Vietnamese investors operating here and Vietnamese expatriates keen to invest in Vietnam," he added.