Prime Minister Phan Van Khai at Overseas Vietnamese Business Association meeting
Hochi Minh City July 2001.

PM urges VietKieu to boost contributions




(SGT-HCMC) Prime Minister Phan Van Khai said on Tuesday the experience and know-how obtained by overseas Vietnamese during their stay abroad are essential for the development of Vietnam, and called on them to bring in advanced technology to help the country catch up with the world economy.

"I understand that many of you (overseas Vietnamese) are working abroad in important sectors such as State management, scientific research and production.

I expect you to bring home advanced technology to help the country move forward faster," Khai said.

He was speaking at his informal meeting with the Overseas Vietnamese Business Association in HCMC. The meeting was also attended by HCMC Chairman Le Thanh Hai and Vice Chairman Nguyen Thien Nhan and other senior city officials.

Khai also called for Viet Kieu businesses to assits the Government in seeking export markers for domestic goods.

He howerver advised Viet Kieu to start with small-sized businesses and try to instill confidence into locals and State management agencies, citing losses incurred by An Giang Province's farmers caused by basa fish cultivation. The fish were imported by some overseas Vietnamese and outlets were frozen after the U.S, misled by inaccurate information, closed its market to the fish.

Concerning investment, Khai said Viet Kieu should be patient as "although the Government has issed more liberal regulatons, more time was needed for lower agencies to boost their working pace and translate rules into reality".

Nguyen Tri Dung, chairman of the association, meanwhile proposed the Government boost the enactment of liberal regulations. According to the association, 500 Viet Kieu have established businesses so far in the city with a combined registered capital of VND 500 billion.

Nearly three million Vietnamese expatriates are living in 100 countries and territories, with 400,000 of them holding university and post-university diplomas. Their remittance was worth US $ 1.8 billion last year.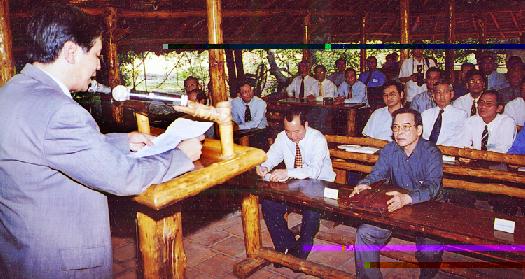 Nguyen Tri Dung, chairman of the association, gave welcoming speech to
Prime Minister Phan van Khai and HCM City Chaiman Le Thanh Hai at the meeting