We are ready to support
Economic and Cultural Cooperation with Vietnam
BACK...
Tuesday, October 1, 2002 Sai Gon Times Daily
---
HCMC determined to purse hi-tech park project
(By Quoc Hung)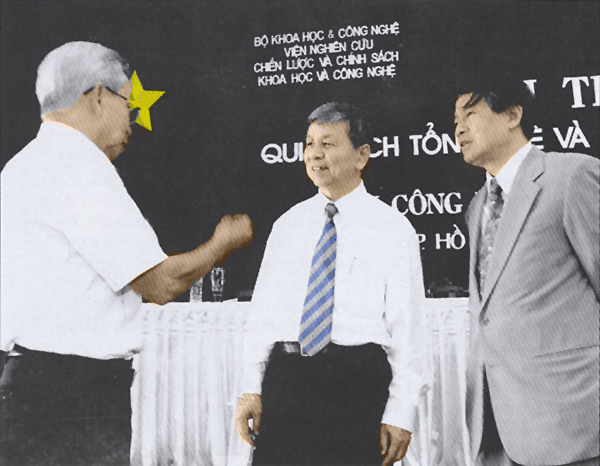 Pham Chanh Truc (C), head of the HCMC Hi-Tech Park project Management unit, chats with other participants (Mr. Nguyen Tri Dung (R)) during the seminar in the city yesterday


(SGT-HCMC) HCMC will soon develop infrastructure for the long-conceived hi-tech park in District 9 so that investors can setup shop from early next year, said the head of the HCMC Hi-Tech Park Project Management Unit
Pham Chanh Truc told reporters yesterday that site clearance and compensation were underway for the 804-hectare park, 15 kilometers of the city center,
The city will invest some US$500 million in the first phase, between now and 2005, to build technical infrastructure on 300 hectares for lease to companies to carry out production projects and train human resources.
This phase will focus on hi-tech factories covering nearly 100 hectares, service and man agreement offices, research and training facilities, and apartments for experts, site clearance and compensation are expected to require US$100 million.
Funding for the park will be sourced from the Government, official development assistance, or power and water supply companies.
"Priority will go to investment in electronics, information technology, telecommunications, precision mechanics and automation engineering" Truc said.
More than 10 major foreign companies in these industries have held talks with the man agreement unit. Some oversea Vietnamese have said they will pour capital into the park when basic infrastructure is completed.
Truc, however, said the implementation plan for the project would be decided by the Government.
A seminar will be held in Hanoi between now and October for officials of the ministries to gather comments on the project and the feasibility study likely be submitted to the Government in mid November.
HCMC chairman Le Thanh Hai speaking at a seminar held at the Reunification Palace yesterday, told to the management unit to urgently prepare

a plan to implement the project. The seminar was attended by around 200 Government officials, professors and overseas Vietnamese
Hai say the city was determined to develop the hi-tech park, which has been conceived for more than

10 years, as it was one of the city's

12 major projects


The city will also issue special incentives and policies as well as propose the Government allow companies to register rather

than apply for investment licenses

to enter the park for this will make the park attractive to investors, according to Truc.
Truc also said Government approval was being

sought to establish the authority of the hi-tech park.