We are ready to support
Economic and Cultural Cooperation with Vietnam
BACK...
Monday, February 17, 2003 Sai Gon Times Daily
---
Vietnam, Japan celebrate
30 years of diplomatic ties
(By Nhu Hang)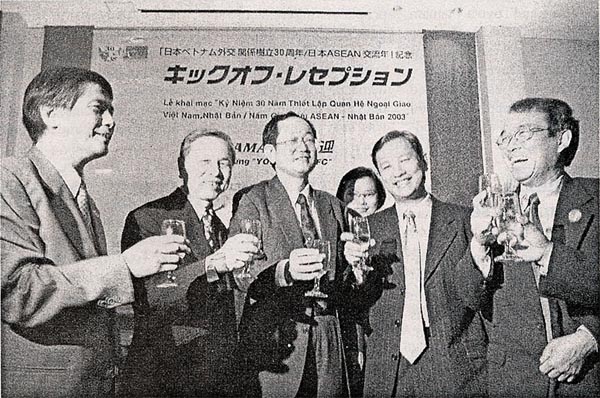 Japanese Consul General Takeshi Kamitani(C) makes a toast with senior HCMC officials at yesterday's function


(SGT-HCMC) Vietnamese and Japanese officials in HCMC

yesterday joined a function to mark the 30th anniversary of diplomatic relations between the two countries, with both sides committed to enhancing multifaceted cooperation.


"In recent years, bilateral relations have developed especially in the fields of economy, such as trade, investment and ODA, "Japanese Consul General Takeshi Kamitani at the function, which also marked the Japan-ASEAN Exchange Year.
"I hope the friendly relations will be consolidated through various exchanges, including economic, cultural, scientific and sports activities."
Le Quoc Hung, director of the HCMC Service of Foreign Affairs, said such projects as the East-West Highway, IT training program and Vietnam-Japan human resourse cooperation center financed by Japan had contributed to further developing Vietnam-Japan cooperation.
He said about 400 Japanese companies had pledged a total investment capital of US$4.3 billion so far in Vietnam, making Japan Vietnam's second largest foreign investor behind Taiwan.
According to him, there is evidence that Japanese companies are eyeing Vietnam as a destination for investment. Although China at present is proving to be the most attractive country for Japanese investors, they have recognized that the concentration of investment for China is risky since the Chinese market is competitive.
Meanwhile, Vietnam is known for its competitive, young and high quality labor force and social and political stability, which has prompted many Japanese companies to pay much attention to the country as promising complementary option for investment.