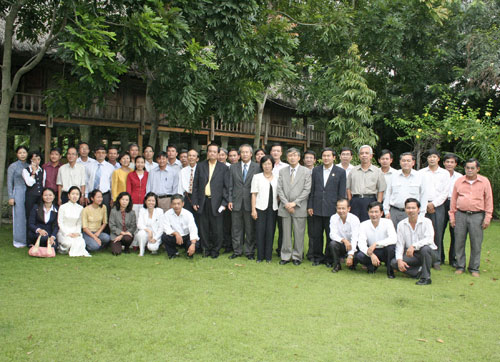 Globalization and economic integration have been obviously causing a lot of both positive and negative impacts on every country, particularly developing ones, in the world. To take advantage of positive impacts and minimize negative ones, it is therefore very necessary to strengthen cooperation and mutual understanding among countries, which have an agriculture-based economy. In this context, the learning forum on "Sufficiency Economy and the New Agricultural theory" was held in Ho Chi Minh City (Vietnam) at Minh Tran Co., Ltd. on 29 September 2006, co-organized by Foundation for Human Resource Development (Thailand), Royal Thai Consulate General in Ho Chi Minh City, and NICD Co. Ltd. (Network of International Cooperation for Development). The forum also received supports from Thailand International Development Cooperation Agency, the Ministry of Foreign Affairs (Thailand), the Royal Thai Embassy in Hanoi, and the Ministry of Agriculture and Rural Development (Vietnam). more information ... hide below ...
The Forum was presided by Prof.Dr. Chira Hongladarom (Project Chairman and Secretary General of FIHRD), Dr. Nguyen Tri Dung (President of Network of International Cooperation for Development; Director of Minh Tran Co.Ltd.), and the Consul General of Thai Royal Consulate General in Ho Chi Minh City). It attracted active participation of more than 40 researchers and activists in the agricultural sector. They come from different agricultural provincial departments, universities and research centers in Ho Chi Minh City as well as all other provinces in Southern Vietnam. Presented at the conference, there are three key papers, including "Globalization, Sufficiency, HRD in Agricultural Sector: Implication to Vietnam" by Prof.Dr. Chira Hongladarom, "Experience on Agricultural Sector of Vietnam" by Dr. Nguyen Minh Chau (Director, Southern Fruit Research Institute), and "Role of Agriculture, the King's New Theory and Economic Development: Application to Vietnam" by Dr. Thunwa Jitsangguan (Vice President for International Affairs, Kasetsart University). As the goal of the learning forum is to exchange and share knowledge and experience in agricultural production and management, all the participants actively and seriously discussed issues emerging in the agricultural sector and potentials for bilateral cooperation and application of the King's new theory to agriculture in Vietnam.

The forum was very highly appreciated. Participants learned a lot from each other as well as from Thai scholars. Both sides also discussed a coming learning visit to Thailand and designed topics for a follow-up project. In general, the forum was really successful for both Thai and Vietnamese researchers, creating good opportunities for future effective cooperation in agricultural production and management research.