Trong chương trình hoạt động kỷ niệm 35 năm thiết lập quan hệ ngoại giao Việt Nam - Nhật Bản, tháng 08/2008 tàu Fujimaru với khoảng 500 sinh viên Nhật Bản đã cập cảng Sài Gòn, tham dự chương trình sinh hoạt giao lưu với sinh viên Việt Nam với nhiều hoạt động phong phú, hấp dẫn:
Sinh hoạt Homestay
Du lịch dã ngoại
Thăm và giao lưu trao đổi văn hóa với sinh viên các trường đại học
Viếng thăm và tiếp kiến UBND TP.HCM - Lãnh sự quán Nhật
Giao lưu sinh viên Việt - Nhật trên tàu Fujimaru
Sau buổi giao lưu, tỉnh trưởng tỉnh Hyogo - Toshizo Ido - đã có thư cảm ơn tới ông Nguyễn Trí Dũng - Giám đốc công ty Minh Trân: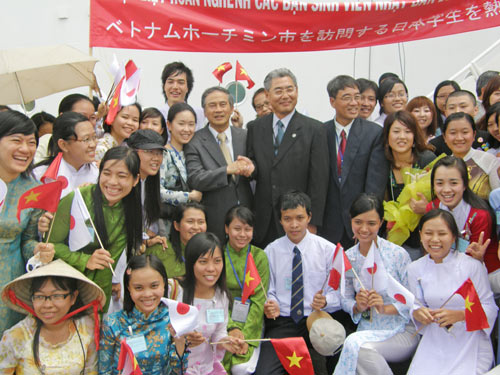 October 6, 2008

Mr. Nguyen Tri Dung
Hyogo Goodwill Ambassador
3-24-62 Shirakabe Higashi-ku,
Twins Shirakabe 506 Nagoya 461-0011

Dear Mr. Dung:

I sincerely hope this letter finds you well.

Thank you for all the consideration you showed when the group from the "Hyogo Joint Summer Session at Sea 2008" visited Ho Chi Minh City. It was our first visit to Ho Chi Minh City, and because of your efforts the activities in port all went smoothly, and we were able to achieve great results. Again, please accept my sincere appreciation.

While in Ho Chi Minh City, we paid our respects to the Ho Chi Minh City People's Committee, visited Vietnam National University HCMC, University of Social Sciences & Humanities, and through participation in a home-stay program hosted by the Ho Chi Minh Communist Youth Union, fieldtrips, and by visiting historical and cultural facilities, we were able to experience much about Vietnam.

Thanks to your efforts for this summer session at sea program, we had the opportunity to host 20 Vietnamese university students here in Japan, and after they stayed with home-stay families in Hyogo, they sailed from Kobe to Ho Chi Minh City. The onboard exchange was very fruitful for the Japanese students, and I am sure they were able to deepen their mutual understanding.

In conclusion, I wish you the very best of health and for great success in the future. Once again, please accept my most sincere appreciation.


Sincerely Yours,

Toshizo Ido
Governor of Hyogo Prefecture
Chairman, Executive Committee
Hyogo Joint Summer Session at Sea